The American Gamelan Period (1978–1981)
The summer and fall of 1977 saw the creation of Other Music's American gamelan, an ensemble of justly tuned instruments consisting mainly of aluminum-bar metallophones, spanning a range of five octaves, and augmented with a rosewood marimba, a set of brass tubular chimes ("liberated" from the New College pipe organ) and various drums. The instruments were built primarily by Henry, Dale, Carola, Kathy Sheehy (who joined the group around this time), and myself, with occasional assistance from San Francisco artist and cabinet maker Michael Lynch. As I recall, the five principal builders spent almost every available hour that summer cutting, filing, and testing aluminum bars in the New College art room (the former embalming room of Mission-District mortuary where the school moved in January 1976). The fourteen-tone-per-octave tuning (later christened OMJ14) was devised by Dale and myself. Initially, I had wanted a seven-tone diatonic tuning, like the ones used for the Modular Metallophones and the Colvig/Harrison American Gamelan, whereas Dale claimed to want 30,000. We ultimately compromised on fourteen (see the tuning).
In June 2018, Other Music's American Gamelan was transported from San Francisco to Glendale Community College in Phoenix AZ, where it will be used for performances by the college Percussion Ensemble beginning in December 2018. This will be the first time these instruments are heard in public in over 45 years. Initially, they will be used to perform Other Music repertory, but in subsequent seasons there may be opportunities for composers to create new works for the ensemble. If you are interested in this, contact me via the Contact Form. There are also tentative plans to improve and, perhaps, expand the ensemble.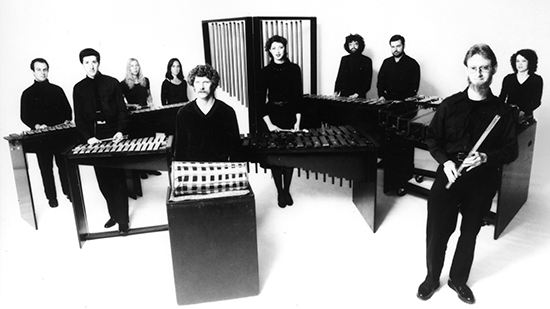 Other Music is best remembered for the American gamelan and the repertory we composed for and performed on it during this period. The creation of our American gamelan ushered in a new period in the group's history. It demanded a larger ensemble—typically ten or more players—fully notated compositions, stricter discipline, and more conventional musicianship. (The four core members of Other Music all studied central Javanese court gamelan at UC Berkeley with Daniel Schmidt and Jody Diamond, at least briefly, as a preparation for composing for and performing on our new instruments) It also brought a rapid end to improvisational formats, sound poetry, found objects, and all of the other repertory that characterized the group's first three years. Other Music's gamelan premiered at Mills College in Oakland, California in the spring of 1978 (I had begun graduate studies at the Mills Center for Contemporary Music [CCM] the preceding fall). During the following three years, Other Music performed extensively in Northern California at a variety of colleges, art galleries, museums, clubs, and alternative performance spaces, including the Cabrillo Music Festival in Santa Cruz in 1978 and 1979. Most of my compositions during this period, which comprised about half of the group's repertory, were strongly influenced by traditional Javanese and Balinese gamelan styles; most of the other compositions in the group's repertory did not reflect these influences, with the notable exception of Balinese-trained drummer James Stadig's Baris Barat. Other composers contributing to the group's repertory during this period included Andrew Fischer, Robert Lauriston, Henry Rosenthal, Kathy Sheehy, Dale Soules, and Jacqueline Summerfield. In addition to these composer-performers, a rotating roster of non-composing members appeared with the group. This music from this period is documented on Other Music's first LP, Prime Numbers, released in 1981.